Energy Consumption Innovation
Energy Consumption Innovation
Supply-Side HVAC
Optimisation
Supply-Side HVAC
Optimisation
AI-powered chiller
optimisation and
automation solution
AI-powered chiller optimisation and automation solution
Today, buildings contribute over 60% of carbon emissions in Hong Kong. Inside a building, Heating, Ventilation & Air Conditioning (HVAC) system is the most energy-consuming system accounting for nearly 50% of total energy consumption, of which 65% of energy is consumed in the plant room. An energy-efficient HVAC system is vital to achieving energy reduction and reducing carbon footprints to tackle climate change.
For buildings lacking flexibility in control to respond to external environmental changes, an AI-based chiller plant optimisation solution that can provide complete and continuous control of the chiller plant devices and monitor buildings' energy consumption in real-time can enhance buildings' energy efficiency and achieve sustainability in the long run.
Our AI-based chiller plant optimisation solution, PlantPRO, is designed to optimise the operation and maintenance of the chiller plant. It consists of an edge computer embedded with software to deliver comprehensive on-premises control that can fully manage the plant independently.
After installing the hardware that connects to the equipment in the chiller plant, the software runs a continuous performance feedback loop powered by sophisticated control algorithms.
Leveraging its AI and machine learning capabilities, the solution can predict the chiller plant's cooling load requirements and autonomously control its equipment, to achieve optimal efficiency. With smart sequencing, the solution automatically picks the most optimal combination of chillers and equipment to satisfy the cooling demand of a building, guaranteeing the lowest energy consumption for the appropriate amount of cooling required.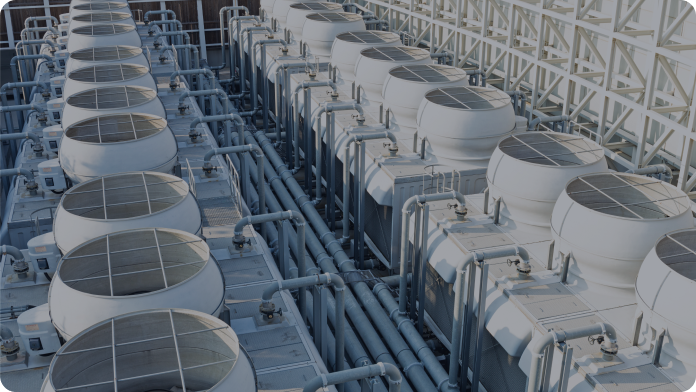 Facilitate smart operation of chiller through automated control
Achieve significant manpower savings
Improved energy efficiency results in energy savings
Enable chiller plant performance validation